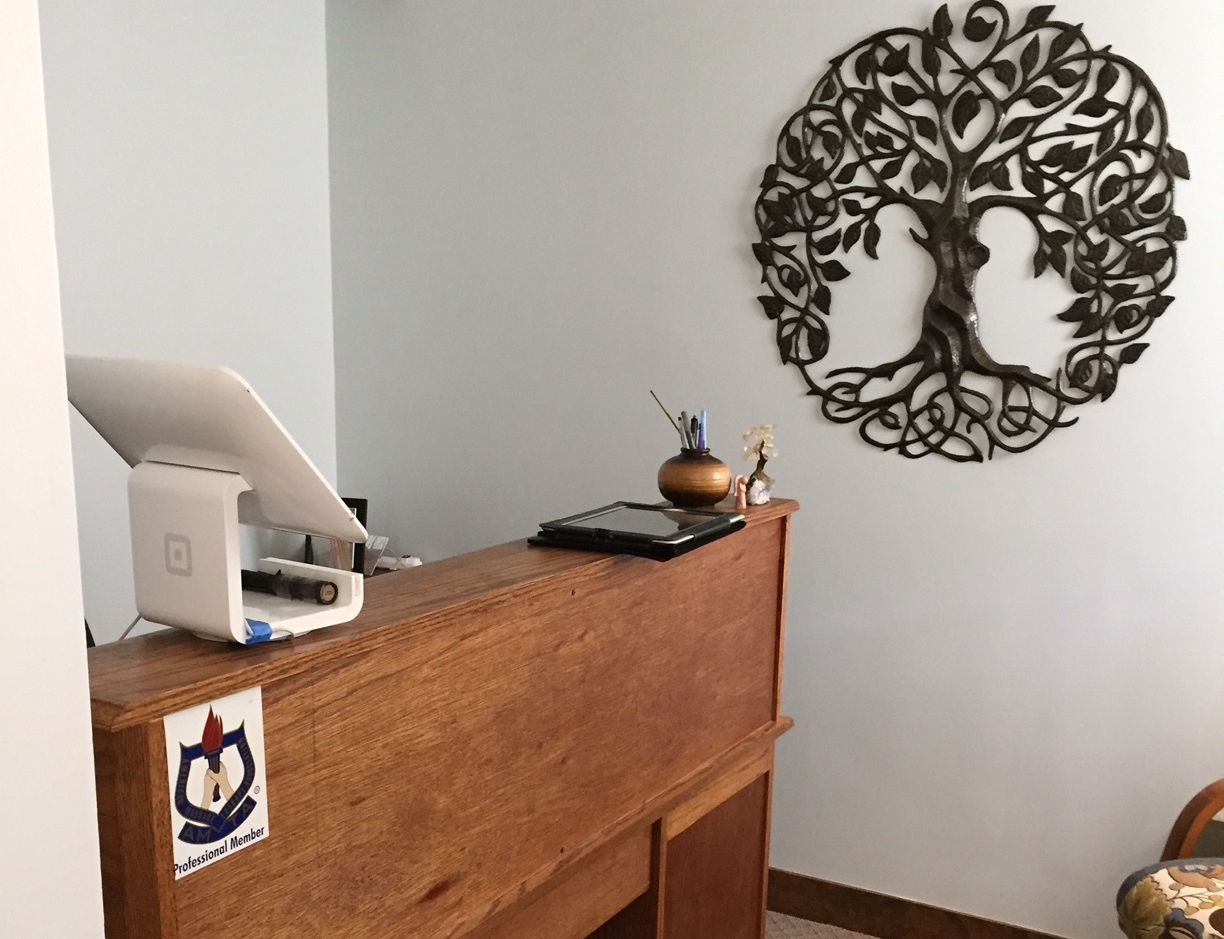 Noreen Cerqua has been a licensed Massage Therapist since 2001, graduating from Muscular Therapy Institute in Cambridge, MA. Committed to helping her clients help themselves, Noreen continued her training, pursuing advanced training in Pregnancy Massage, Reiki and Flower Essences. She also completed a 10-month herbal apprenticeship. In 2006, Noreen became a certified practitioner of Arvigo Techniques of Maya Abdominal Therapy and certified by the Arvigo Institute as a Community Based Educator in 2009.
Noreen believes that everyone has an innate healing wisdom and each person knows what he or she needs. She provides the support that empowers individuals to move toward healing, wellness and balance.
Noreen's passion for The Arvigo Techniques of Maya Abdominal Therapy® lead her to specialize in providing support primarily for women. Whatever age or stage of life you happen to be in, Noreen listens to and addresses your unique concerns about your body and sense of well-being. She has a gentle, healing touch and offers knowledge and insight on many conditions affecting women's health and wellness.
Call Noreen at (508) 397-8287 to talk about your specific concerns or use our contact form to schedule an appointment.
On Painful Periods...
"I first started seeing Noreen because of severely painful periods. For about a year or more, I'd been having such painful cramps with my periods that I couldn't do anything for almost a whole day because I was in such agony. During my first visit, Noreen was able to feel that my uterus was displaced off to the right and resting on my right ovaries. Noreen showed me how to do the self-care massage and also educated me on other techniques and remedies to use in between visits to assist the healing process. I started seeing her monthly and I was very diligent with my home practice. It took a few months, but now my periods are pain-free! And that's only part of the benefit. I also feel like I have connected more deeply with the core of who I am as a woman. This has been a very powerful experience for me. Noreen is a very gifted, knowledgeable, and nurturing practitioner and I will continue to work with her to maintain this health and balance." ~Christina

On Infertility and Connection with Womb...
"I went to see Noreen for a Maya Abdominal Massage after trying to get pregnant for two months with no luck. During the treatment I felt a level of internal relaxation that I had never experienced before. I had been concerned the massage would be uncomfortable, however, instead it was very enjoyable. Noreen worked with my belly with such honor and respect that it opened the door for me to discover a new and beautiful connection with my womb. I learned and practiced the self-care massage and the next month, I got pregnant! Noreen is a powerful healer—her hands are exquisitely intuitive and her heart is full of love for the tender care of your womb." ~Anonymous

On Menstrual Pain...
"I have to admit I did not know what to expect from the treatment. Noreen's gentle energy and knowledgeable touch made the session very relaxing. I was surprised how many shifts I felt in my body. Many of the symptoms I experienced before the massage were gone. What a relief." ~Kate

On Painful Intercourse...
"I went to see Noreen Cerqua after having painful intercourse. I had never experienced this before so I was concerned about what might be causing it. During my massage, Noreen was able to feel that my uterus was not in its normal place, she explained to me what she was feeling and had me feel it, too. She worked on my whole abdomen and sacrum to relieve stress that had accumulated over time due to surgery, stress and trauma. I was able to feel areas of tension being released and energy moving through my system. Noreen also instructed me to do self massage. After one session with her, I no longer had pain during intercourse. I highly recommend Noreen as a practitioner of Maya massage and encourage all women to have this therapy done as a way of creating and maintaining good health." ~Loretta

On Depression, PMS Symptoms and Grief...
"I was mildly depressed for several years, particularly in the wintertime. My PMS came with anger and mood swings that made it hard for my loved ones to be around me. Heavy cramping and bloating during my periods made me want to avoid going anywhere or seeing people for a few days each month. I hadn't felt well in so long, I began to think this was just my 'normal' way of life and there wasn't much I could do about it. I was coping in ways that weren't healthy such as overeating and drinking. I felt really unhappy. After I started receiving Maya Abdominal Therapy from Noreen, I noticed a lift in my mood. Each time I had a session, I felt a little better, and it gave me enough energy and hope to start making healthier choices in my daily life, such as exercising regularly and eating mindfully. After several sessions, I noticed my PMS symptoms, particularly the anger, had dwindled and my periods were getting easier. I no longer need medication to deal with cramping, and my emotions are more balanced than I can remember them ever being—even during the winter months. Noreen also helped release some of the grief I was holding in my abdomen following several deaths in our family. I would recommend Noreen's work, healing presence and support to any woman who struggles with depression, PMS and menstrual symptoms. Noreen was essential to helping me find my way to a better, more balanced normal." ~Dawn